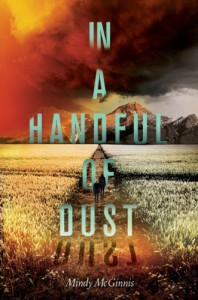 This is the second and final book in the Not A Drop to Drink series. I read the first book not so long ago and wanted to go on with this duology because I rather enjoyed the first one. This one takes place a few years after the end of book 1.
I think Not A Drop To Drink could have been a standalone but I was glad for this addition to the series. I liked to get to know Lucy a little bit more and see what Lynn became as an adult.
Lucy and Lynn are going on a long journey and this is going to make them understand so many things about each other, but most importantly about themselves.
They met a few other people and it was nice to see what was happening on other parts of their world (I would have liked a bit more of that actually).
However, I was expecting a bit more than that. I feel like Lucy was too ordinary, her character was even a bit dull in my opinion. Something was definitely missing there.
Lynn is also not as good as I remembered her to be, she is annoying. What was really weird for me is that she kept being referred to as "the older woman" and so I always pictured her as an old lady (she is 27).
The ending was not okay with me. I don't know if there was something I should have understood and I did not, but I definitely hated how it ended. I think it was stupid.
Anyway, this book was not bad, I recommend it if you really liked Not A Drop To Drink but I also think you do not need to read this one if you are happy with how book one ended. It was not bad, but it was not necessary.